Digital Certificates
Understanding digital certificates is central to understanding public key infrastructure systems. A digital certificate, also known as a Digital ID, is the electronic equivalent of a passport or business license. It is a credential, issued by a trusted authority, which individuals or organizations can present electronically to prove their identity or their right to access information.
When a Certification Authority (CA) such as Thawte USA, issues Digital IDs, it verifies that the owner is not claiming a false identity. Just as when a government issues a passport, it is officially vouching for the identity of the holder, when a CA gives your business a digital certificate, it is putting its name behind your right to use your company name and Web address.
How Digital Certificates Work
In physical transactions, the challenges of identification, authentication, and privacy are solved with physical marks, such as seals or signatures. In electronic transactions, the equivalent of a seal must be coded into the information itself. By checking that the electronic "seal" is present and has not been broken, the recipient can confirm the identity of the message sender and ensure that the message content was not altered in transit. To create an electronic equivalent of physical security, digital certificates use advanced cryptography.
Cryptographic systems have been used to protect valuable information for thousands of years. Traditionally, cryptographic systems have attempted to ensure security using some variant of the secret key system. Secret key systems require that both parties in a communication scheme have a copy of the same secret code or "key." When two people wanted to share information, the sender would encrypt the information using his copy of the secret key. The recipient could decrypt the message only by using her copy of the same key. If somebody intercepted the message, that person could not decipher it without the key.
Despite their widespread use, secret key systems have several critical limitations. First, simply transmitting the secret key poses risks because the key can be intercepted in-transit by unauthorized parties. Second, if one of the sharing parties uses the key maliciously, that party can deny or repudiate, the transaction. Alternatively, the malicious party can impersonate the sender, or can use the secret key to decrypt other sensitive information. To prevent against this sort of attack, organizations must require users to have different secret keys for each party with whom they communicate. If an organization has a hundred people, literally millions of different secret keys will need to be used to accommodate all possible combinations.
Digital certificates employ the more advanced public key cryptography system, which does not involve the sharing of secret keys. Rather than using the same key to both encrypt and decrypt data, a digital certificate uses a matched pair of keys that uniquely complement each other. When a message is encrypted by one key, only the complementary key can decrypt it.
In public key cryptography systems, when your key-pair is generated, you keep one key private. This key is called the "private key," and nobody other than you, as the rightful owner, should ever have access to it. However, the matching "public key," can be freely distributed as part of a digital certificate. You can share your digital certificate with anyone, and can even publish your certificate in directories. If someone wants to communicate with you privately, they use the public key in your digital certificate to encrypt information before sending it to you. Only you can decrypt the information, because only you have your private key. The figure below illustrates the use of digital certificates.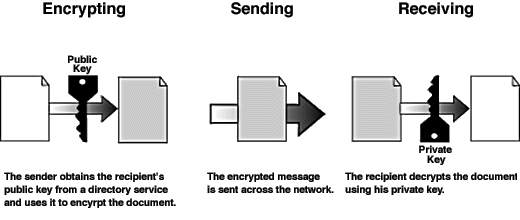 Conversely, you can use your key pair to digitally sign a message. To sign a message, you simply encrypt the message with your private key. The message can be decrypted using the public key contained within your certificate. While many people have access to your certificate, only you could have signed the message, because only you have access to your private key.
A digital certificate is a binary file. Your digital certificate contains your name and your identifying information along with your public key-- it tells correspondents that your public key belongs to you. Digital certificates generally also contain a serial number, an expiration date, and information about the rights, uses, and privileges associated with the certificate. Finally, the digital certificate contains information about the certificate authority (CA) who issued the certificate. All certificates are digitally signed using the private key of the Certificate Authority. (Generally, the Certification Authorities' own certificate (called a root certificate) is widely deployed in software packages, allowing people to seamlessly identify legitimate certificates issued by the certification authority.) If the CA maintains good security protection of their private key, it is virtually impossible for anyone to forge a digital certificate.
It is important to note that certificates are not only issued to individuals. Organizations, as well as entities such as servers and routers, can also be issued certificates.
Digital Certificates Meet Your Security Objectives
Given the ease and versatility of PKI, security technology based on Digital Certificates has been deployed widely over the past several years. These widely used security protocols include:
S/MIME: The Secure, Multipurpose Internet Mail Extension protocol allows for sending signed and encrypted e-mail
SSL: The Secure Sockets Layer protocol allows for authenticated and encrypted communication between browsers and servers, or between different servers.
IPSEC: The IP Security Protocol is a newly developing protocol, allowing authenticated and encrypted communication between routers, between firewalls, and between routers and firewalls. This protocol will play an important role in Extranets in the coming years.