Overview
---
Procedures below are a guideline to configuring bluetooth printing between a Symbol MC70 handheld computer and a Zebra RW420 bluetooth printer. The "Software Bundle" linked in the direct download section at the bottom of this document is a single download containing all software components required.


Setup Requirements
Step 1 - PC Preparation
Step 2 - Symbol MC70 Handheld Preparation
Step 3 - Zebra RW420 Configuration
Step 4 - Bluetooth Configuration
Example Device Preparation Sequence
Reference URLs
Direct Download Links



Setup Requirements

---
- PC running Microsoft Windows XP with available USB port
- Microsoft ActiveSync 4.5
- Zebtra Label Vista
- Zebtra RW420 PC USB Driver (v5.5.7.19)



Step 1 - PC Preparation

---
- Install Microsoft ActiveSync 4.5 download
- Install Zebra Label Vista download
- Install Zebtra RW420 PC USB Driver download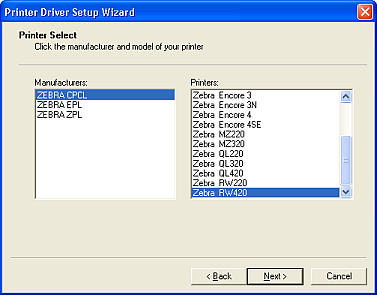 Step 2 - Symbol MC70 Handheld Preparation
---
- Unpack handheld and install battery.
- Unpack cradle.
- Place handheld in cradle.
- Attach cradle to power source.
- Attach USB cable to cradle and PC.
- Power on handheld and verify ActiveSync connection is established. When prompted with the wizard below, click 'Cancel' as there is no need for synchronization. ActiveSync is used purely as a file transfer mechanidm to/from the PC/handheld.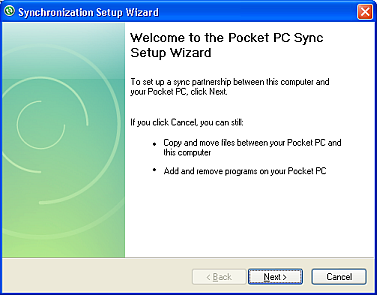 Step 3 - Zebra RW420 Configuration
---
- Detach USB cable from cradle and attach to printer (pop dust cap to see USB port).
- Start Label Vista (Start->Programs->Label Vista->Label Vista).
- Select Printer->Printer Settings.
- Set 'Printer Language' to LINE_PRINT.




- Select 'Battery' Tab
- Verify 'No-Activity Timeout' is 0.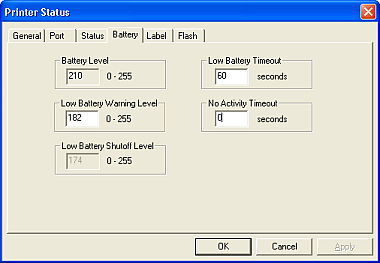 - Click OK
- Select Printer->Utilities->Bluetooth Settings
- Set authentication to 'SETPIN' and specify a 4 digit pin to be used later in setup.
- Note the 'Friendly Name' displayed as that value will be useful later in configuration. In this example, the friendly name is XXRC06-47-5495.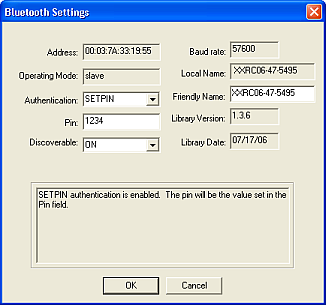 - Click 'OK'
- Select File->Exit to terminate Label Vista
- Disconnect USB cable from printer and attach to cradle.



Step 4 - Bluetooth Configuration

---
- Verify that the printer is turned on and USB/ethernet cabling is not attached.
- On the handheld, select Start->Programs and select BTExplorer.
- When the 'New Connection Wizard' is displayed, verify the dropdown specifies 'Associate Serial Port' then follow wizard. When prompted, select COM4: for serial port.
- Select the printer matching the friendly name found in step 3.
- Enter pin code specified in step 3 and click 'Ok'.
- Click 'Finished'.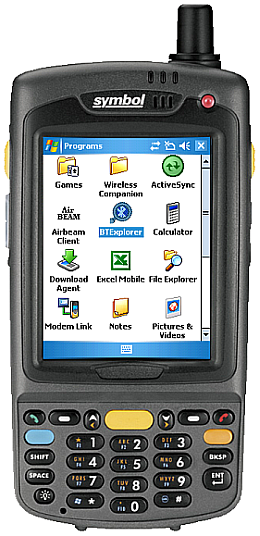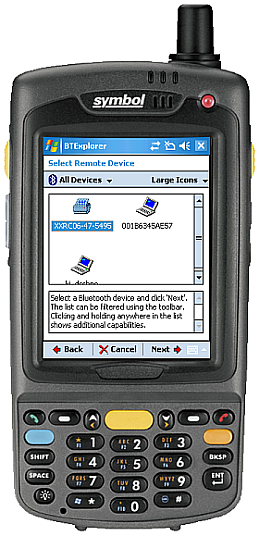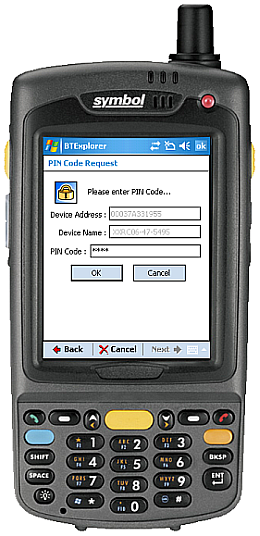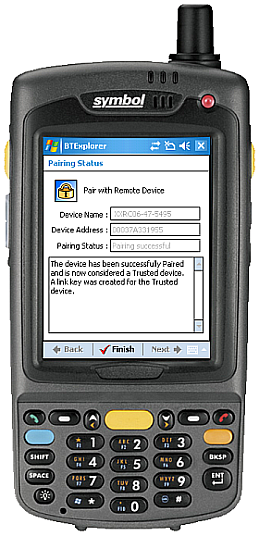 Example Device Preparation Sequence
---
- verify MC70 software versions of OS and bluetooth driver
OS Version: 02.33.0004
BT Version: 1.2.4 Build 6722
- bond bluetooth printer by associating serial port (COM4)
- print test page
- install application(s)
- verify printing from application(s)



Reference URLs

---
Microsoft ActiveSync
Zebra Label Vista
Zebra RW420
Zebra RW420 Downloads
Direct Download Links
---
Zebra Label Vista
Microsoft Active Sync 4.5
Zebra RW420 PC USB Driver
Wireless Configuration Guide
Software Bundle



** END **